Home in Lansdowne, PA, and New York visit--Robert Hoadley Whipple--home movies. Reel 1
1682.0001
This item is available for reuse, please contact Northeast Historic Film
circa 1936 – 1942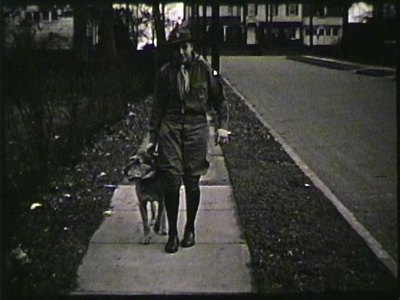 Credit:
Credit: Whipple Legacy Collection, Northeast Historic Film.
Black-and-white home movie including scenes of the Whipple family at home in Lansdowne, PA, their dog, Jack, and a trip to New York.
On can: "House, Jack, New York"
Whipple home on Congress Avenue, Lansdowne, Pennsylvania. Views of car parked on street and of the house and yard from different angles. The family dog, Jack, is seen on the sidewalk and in the yard, barking at the camera and playing fetch with a man and woman. Robert Sterrett Whipple appears in a Boy Scout uniform, walking with the dog. Scenes from the New York visit include the skating rink at Rockefeller Center; a docked ship, Rex, and other ships in the harbor; the Museum of Natural History; the Rivoli Theatre marquee; signs for Goldwyn Follies in Technicolor and Wrigley's gum; a toy train Christmas display. Reel concludes with more shots of dog Jack in the yard at Lansdowne; a crying baby in a wicker cradle; and crowds in a field of cars and tents, where Boy Scouts are setting up camp.
4 Copies