Lady and gentleman call, Newport, R.I., 1938--Cyrus Pinkham--home movies. Reel 15
2463.0015
This item is available for reuse, please contact Northeast Historic Film
1938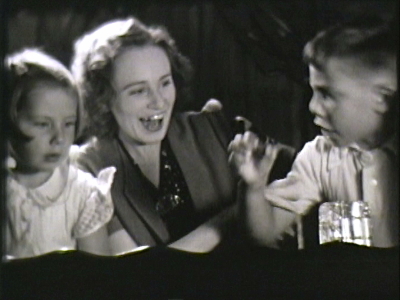 Credit:
Credit: Cyrus Pinkham Collection, Northeast Historic Film.
1938 reel compiling a short dramatic scene featuring Margaret, Peggy, and Charles, and a visit to Viking Beach at Newport, Rhode Island.
Title: "Lady and Gentleman Call 10/38" A woman receives a visit by a young boy and girl. The three sit together in the living room working on a puzzle when the boy throws a tantrum. The woman turns on the radio and the girl dances to coax the boy out of his sulk. -- Intertitle: "On the beach at Newport R.I. 8/38" Sign: "Viking Beach" Young man arrives and joins three women under an umbrella on the beach. Shots follow of the ocean, rocks, and beach.
3 Copies