Be Beautiful?, Boothbay Harbor, Donald B. MacMillan 1937-1938--Cyrus Pinkham--home movies. Reel 8
2463.0008
This item is available for reuse, please contact Northeast Historic Film
1937 – 1938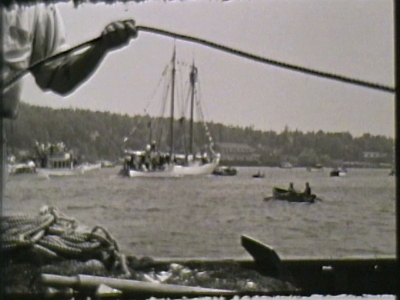 Credit:
Credit: Cyrus Pinkham Collection, Northeast Historic Film
Compilation of four films, including the comic short "Be Beautiful?", a short film of a visit to Boothbay Harbor, brief footage of the ferry Virginia, and a newsreel-style short of Commander Donald B. MacMillan.
1) Cyrus Pinkham Presents Peggy Smith in Be Beautiful? 2) A vacation - Boothbay Harbor 3) Virginia (a ferry, not the state) 4) News Flashes - cameo by Lowell Thomas
Title: "Cyrus Pinkham Presents" Title: "Peggy Smith in Be Beautiful?" Title: "Screenplay/Cyrus Pinkham/David Houck/Peggy Smith/Titles/Peter Schuman" Dramatic short of a frumpy woman's dream of the alternate course her life might take were she a beauty. Title: "THE END" Title: "A Vacation" Title: "with Lucy Carlisle/Margaret Pinkham/Virginia Carlisle" Title: "Produced by Cyrus Pinkham" Title: "Photographed around Boothbay Harbor/Maine" Close-up of woman's hands opening a telegram. Insert: telegram from Lucy. Sign: "Wiscasset" Wiscasset train station. Boating, shopping, Squirrel Island, Capitol Island. Title: "THE END" Sign on ferry boat: "Virginia" Vertical-lift bridge, swing bridge. Title: "News Flashes" (illustrated) Intertitle: "Commander Donald B. MacMillan sails from Boothbay Harbor on his 17th Arctic expedition/June 25, 1938" Intertitle: "Lowell Thomas is present" Shots of Thomas aboard boat, carrying a camera. Intertitle: "Commander MacMillan" MacMillan seen with map and navigational instruments.
Scanned in 2K for NFPF grant in 2022.
11 Copies