Viking Video Production Collection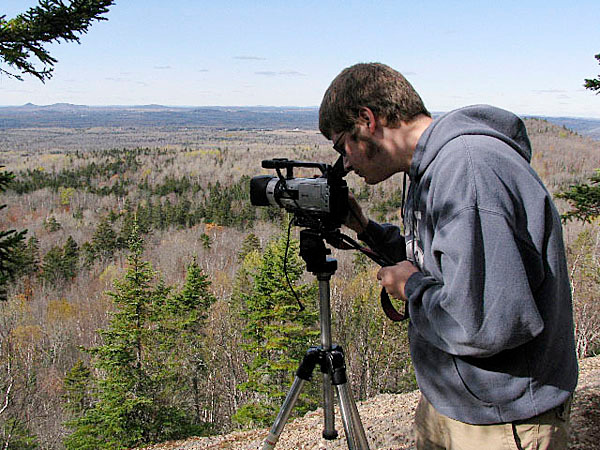 Credit: Photo by Brenda Jepson, Viking Video Production Collection, Northeast Historic Film, Student Shoots from the top of the North Peak for the production"Aroostook State Park - Maine's Oldest," June 2010
The Viking Video Production Collection was created by students enrolled in video production at the Caribou Technical Center in Caribou Maine. The class was taught by Brenda Jepson for 15 years. The collection contains a variety of student work on VHS, SVHS, miniDV and DVD. Content ranges from preproduction materials, to raw footage and final master copies. Finished titles inlcude: The Coming of the Swedes, A Bowdoin Expedition, Stan's: A Jewel in the Crown of Maine, Don't Fence Me in, Biathlon Comes to the County, and Aroostook State Park - Maine's First.
Viking Video Productions started in 1995 as a video production class at the Caribou Technical Center in Caribou, Maine. It is named after the school's mascot, the Viking. Many of the high school students who contributed to the productions went on to professional careers in the field of communications and media. Brenda Nasberg Jepson graduated with a degree in Journalism from the University of Maine (UMO) in 1974 before emigrating to Europe where she lived for fourteen years. Her company, Crown Of Maine Productions, Inc., also produces commercials, training videos and promotional videos. She is a member of the Maine Film Commission and the Maine Film and Video Association.
Northeast Historic Film
The Collection is open for research.
5 Items in this collection