Forbes, Irving Collection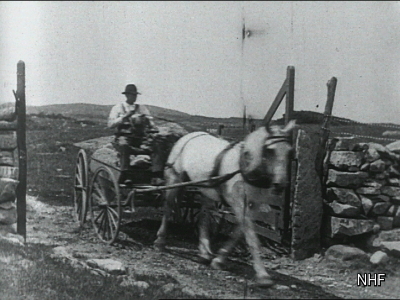 Credit: Irving Forbes Collection, Northeast Historic Film. Sheepherding on Naushon Island, MA, 1915.
[Alexander Forbes--home movies], 2241
[Alexander Forbes--home movies], 1902
[Alexander Forbes--home movies], 2533
film (8,300 ft.) : si., b&w and col. ; 16 mm.
film (840 ft.) : si., b&w and col. ; 28 mm.
1915 – 1953
Credit: Irving Forbes Collection, Northeast Historic Film. Sheepherding on Naushon Island, MA, 1915.
The Irving Forbes Collection contains of 49 reels of 16 mm. film, 12 reels of 28 mm. film, a Pathé Kok 28 mm. motorized projector, and a Bell & Howell Filmo 57 16 mm. projector. Forbes family scenes include views of gardening, boating, daughters dancing, horses and horseback riding, and trips to the family ranch in Wyoming and to family-owned Naushon Island, Massachusetts. Other activities found in the collection include: figure skating, skiing, camping, and flying (including aerial shots of New England). Footage depicts the 1931 and 1933 cruises of the schooner Ramah, in which Forbes and crew sail to Labrador, Canada, from Dorchester, Massachusetts (1931), and from Hyannis, Cape Cod, Massachusetts to Naples, Italy, including a tour of the Aegean (1933). Ramah cruise footage depicts views of land and seascapes and crewmembers aboard the ship. Other significant footage includes: herding and shearing sheep on Naushon Island in 1915; 1932 Winter Olympics in Lake Placid, New York; and documentation of Forbes' 11-day trip as a relief pilot to photograph the northern tip of Labrador (near Cape Chidley) for the first aerial map survey of that area. The collection also includes 50 glass slides, primarily shot by Alexander Forbes from 1913 to 1941. Includes shots of Milton, Massachusetts, the Azores, Mallorca, Italy, and England.
Alexander Forbes (1882-1965) was born and died in Milton, Massachusetts. His great grandfather, John Murray Forbes, was a diplomat and businessman in China who was responsible for establishing the Forbes family on Naushon Island, a private enclave off Woods Hole, MA, where various members of the family still live in the summer. His son, William Hathaway Forbes, was a Civil War hero who became president of the Bell Telephone Company, and married Edith Emerson, the daughter of Ralph Waldo Emerson. Their eighth and last child was Alexander Forbes. Alexander Forbes graduated from Milton Academy, and then spent a year living on a Forbes family cattle ranch in Wyoming, working in a chemical mill in Maine, and traveling. He attended Harvard College and graduated in 1905 (his classmate was Franklin D. Roosevelt). He spent another year mostly in Wyoming, and then the next four years at Harvard Medical School, receiving an MD in 1910. He devoted his career to the study of the physiology of the nervous system by the use of physical techniques, and became an instructor in the Department of Physiology at Harvard Medical School, and the first laboratory scientist in the US to concentrate on the emerging science of neurophysiology. More information about his scientific work and publications can be found in
Alexander Forbes, 1882-1965
, a biographical memoir by Wallace O. Fenn, published in 1969 by the National Academy of Sciences, a copy of which is in the donor file. The Grass Foundation, which supports research and education in neurosciences, sponsors a lectureship and residency program honoring and named for Alexander Forbes. Information about the program and a biography of Forbes can be found at
Grass Foundation
. In addition to his scientific work, Forbes was a skilled navigator. He published "Offshore Navigation in Its Simplest Form" in 1935.
WorldCat
In the summer of 1931, Forbes planned a recreational sailing cruise to Labrador, but, by chance, Dr. Wilfred Grenfell suggested that the coast of Labrador needed better charts. Forbes consulted with the American Geographical Society and made contact with O.M. Miller, who was developing a new technique for making charts by oblique photography from the air. The cruise became a scientific expedition aboard the 97-foot schooner Ramah, owned by Forbes. Photographs of this survey are available at the Archives, Gray Herbarium Library, Harvard University Herbaria, and were a gift to Harvard from the American Geographical Society.
Photographs from survey of Labrador coast, 1931: A Guide
. Forbes returned to Labrador in 1935 to continue the aerial mapping. Forbes Sound, Nunavut, was named in his honor. Forbes authored "Northernmost Labrador Mapped from the Air," published by the American Geographical Society in 1938. At the end of World War II, Forbes was sent to Bikini Island to apply his techniques to mapping and measuring the waves generated by the atomic explosion. Additional papers of Alexander Forbes can be found at the Francis A. Countway Library of Medicine Harvard University. This collection was donated by Alexander Irving Forbes (1922-2008), the son of Alexander Forbes.
The book "From Land to Legislature in Fifty Years: A Historical Perspective on the Development of Iqaluit" by Mary F. Clark, uses the work of Alexander Forbes as a reference. A copy is held at NHF, gift #2023-01.
Northeast Historic Film
The Collection is open for research.
Authorization to reuse and/or reproduce must be obtained from Northeast Historic Film. See http://www.oldfilm.org/research for more information.
77 Items in this collection