Lincoln, Roger Collection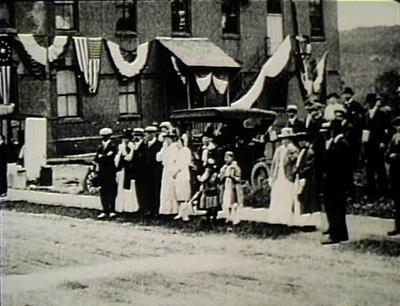 Credit: Roger Lincoln Collection, Northeast Historic Film. Enfield, MA centennial celebration parade, 1916.
(400 ft.) : si., b&w ; 16 mm.
1915 – 1916
Credit: Roger Lincoln Collection, Northeast Historic Film. Enfield, MA centennial celebration parade, 1916.
The Roger Lincoln Collection consists of one film shot in 1915 and 1916, documenting the Enfield, Massachusetts, Centennial Celebration (1916). Intertitles are used to highlight various points and people of interest. Highlights include: a 1915 Enfield Suffragettes march, men of the G.A.R. or Grand Army of the Republic, the Enfield baseball team, and the Enfield Volunteer Fire Department. Footage depicts horse-drawn fire trucks with the fire hose being wheeled behind, the decorated, horse-drawn parade floats, and the automobiles of the town. One intertitle explains "Enfield Has An Automobile For Every Forty Inhabitants." Titles are also used to solicit funds to help pay for the celebration, and to point out winning floats in the parade. This film captures the humor and spirit of a town celebrating its 100th Anniversary, thirty years before it would be destroyed in the creation of the Quabbin Reservoir. The Enfield Centennial Celebration collection, 1916, Donald Howe, is held at the W.E.B. Du Bois Library, University of Massachusetts Amherst.
WorldCat
The town of Enfield, Massachusetts, was one of the eleven Swift River Valley towns and villages lost to the Quabbin Reservoir in 1939. Incorporated in 1816, the town was centered at the junction of the east and west branches of the Swift River. Enfield's farming and industrial base made it one of the wealthiest in Massachusetts before the Civil War. It was disincorporated on April 28, 1938. Before flooding, the Quabbin towns were stripped of their buildings, railroad tracks, and cleared of trees. The majority of Enfield remains under the reservoir, but the Quabbin Observatory and Enfield Lookout, as well as the main entrance to the Quabbin State Park, are all within the former town's limits. The Enfield Centennial Celebration film was donated to Northeast Historic Film by Roger Lincoln in 2003. It is a 16 mm. reduction of a 35 mm. film taken by a Pathé cameraman for the Enfield Massachusetts Centennial Celebration in 1916. Northeast Historic Film owns the only surviving copy, as the original 35 mm. nitrate print was destroyed, and was able to have it preserved through a grant from the National Film Preservation Foundation. G.A.R. = Grand Army of the Republic (http://en.wikipedia.org/wiki/Grand_Army_of_the_Republic)
Northeast Historic Film
The Collection is open for research.
Authorization to reuse and/or reproduce must be obtained from Northeast Historic Film. See http://www.oldfilm.org/research for more information.
1 Items in this collection