Shay, Charles Norman Collection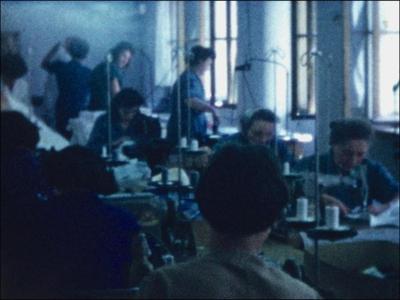 Credit: Credit: Charles Norman Shay home movies, Charles Norman Shay Collection, Northeast Historic Film. Family-owned shirt factory, Vienna, Austria, ca. 1957.
1955 – 2003
Charles Norman Shay, a Penobscot Tribal Elder, was born in Bristol, CT, in 1924, moving to Indian Island, ME in 1930, attending school in Old Town, ME. He is the grandson of Joseph Nicolar, tribal representative to the Maine Legislature and author of The Life and Traditions of the Red Man (1893).
WorldCat
In 1943 Shay was drafted for World War II service into the Medical Detachment of the First Division's 16th Infantry Regiment. A combat medic on Omaha Beach, he was later captured by German military and taken to Stalag VI-G in Neubergstadt, liberated in 1945. Shay re-enlisted in 1946, serving in Vienna, Austria, there meeting his wife, Lilli. As a Korean War combat medic in 1950 he became a Master Sergeant, awarded the Bronze Star with two Oak Leaf Clusters. Continued in US Air Force in a Weather Squadron in Oklahoma, retired in 1964. Moved back to Vienna, working for the International Atomic Energy Agency until 1984. Retired to Indian Island, ME, to the house of his mother's sister Lucy (Princess Watahwaso). Restored the two-story wooden "Teepee" erected as an Indian novelty shop by Lucy and her Kiowa Indian husband Chief Bruce Poolaw; in it he created a family museum dedicated to the memory of ancestors and close relatives, as well as to the culture and history of the Penobscot Indian Nation. adapted from http://charlesnormanshay.com/about.html
19 Items in this collection