Larock, Marguerite Collection
film (3810 ft.) : si., b&w and col. ; 8mm
1941 – 1962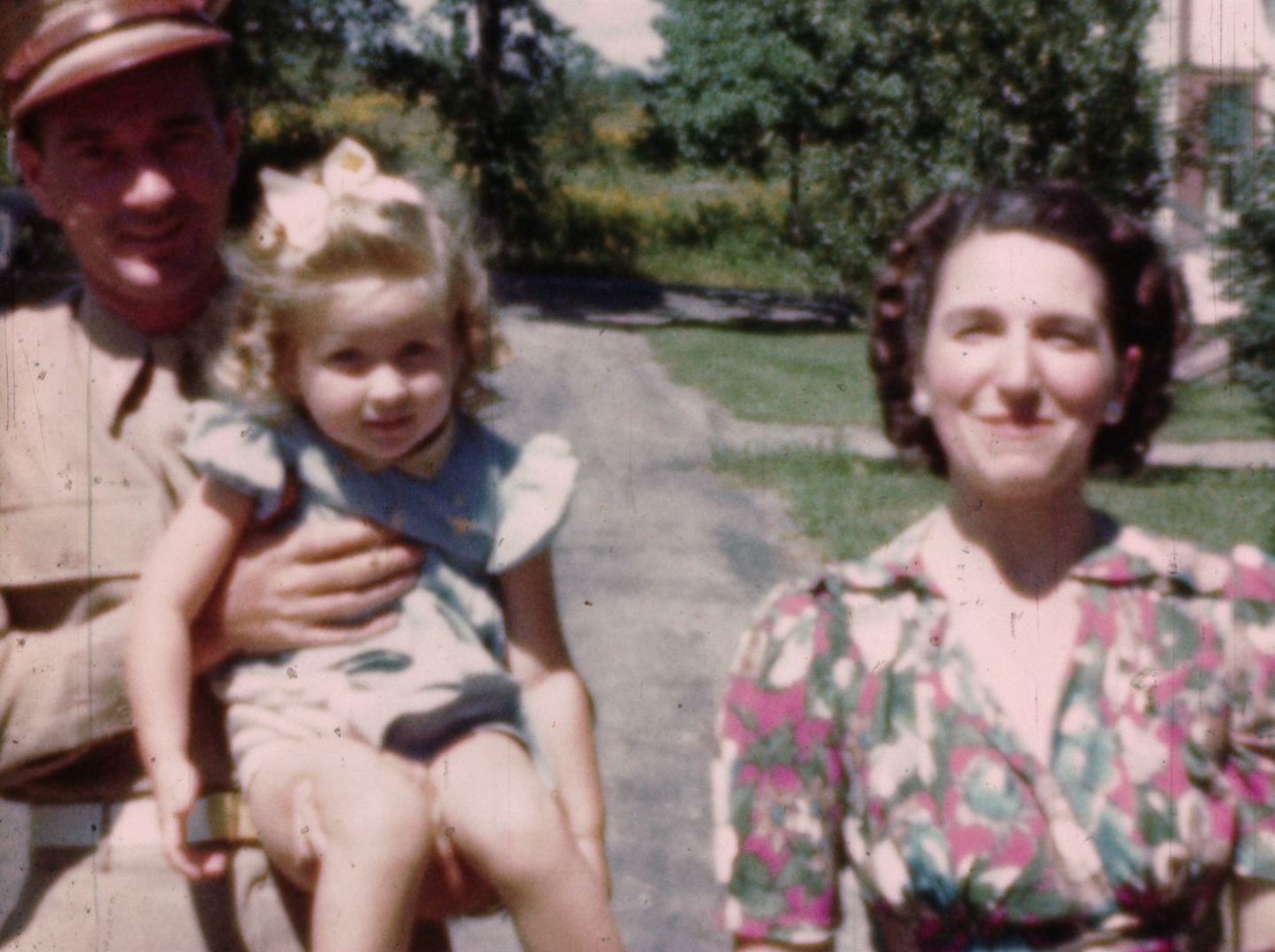 Credit: Marguerite Larock Collection, Northeast Historic Film. Lionel, Marcia and Marguerite Larock, when Lionel was home on furlough, Maine 1944.
The collection consists of the [Marguerite Larock--home movies], 20 reels of silent, black and white, and color, 8 mm film, totaling approximately 3,810 feet. The films were shot primarily by Marguerite Larock, a lawyer based in Lewiston, Maine, during the 1940s,1950s and 1960s. They include scenes of her children and extended family, birthday parties, Christmas celebrations, and trips to Sabbathday Lake, Maine. The collection also includes a Kodak Moviedeck 435 projector and a Mansfield "Little Gem" Model 950 editor.
Marguerite Larock was born in Union Mills, New Brunswick, in 1912. Her family, made up of her parents (Albert and Evis Frost), two sisters (Lola and Charlotte) and two brothers (Raymond and Vernard), moved back to Maine, where she attended Mechanic Falls High School. She graduated at the age of 16, whereupon she took a job as a secretary, and later law apprentice to Judge Edward Parent. She passed the Maine Bar Exam in 1937, and would continue to practice law throughout her life.

In 1939 she married Lionel "Lee" Larock. The couple lived in Lewiston, Maine, where they raised four children: Marcia, Dennis "Denny", Norman, and Cynthia "Cindy" Larock, who donated the collection. The family frequently vacationed at nearby Sabbathday Lake, accompanied by other members of their extended family.

Marguerite taught law at Bliss College and worked as a secretary at Bates College for many years, all while continuing to practice law. She also worked as a secretary for the Androscoggin County Bar Association and served on the boards of the Lewiston-Auburn Child and Family Service Association, Child and Family Mental Health Services, and Tri-County Mental Health.

Marguerite Larock passed away on February 19, 2002.

Marguerite's husband, Lee, ran a general store in Lewiston, Maine (Lee's Variety Store, 417 Main Street). He passed away in 1961 at the age of 47. Lee and his two brothers-in-law all served in the military during World War II. Raymond Frost enlisted in the Army Air Force in 1942 and was honorably discharged in 1946. He married Dorothy Hall on September 12, 1955. Raymond passed away in May 23, 2013. Vernard Frost served in the Army. He would later graduate from Pennsylvania State University and marry Phyllis Mowery. Vernard passed away on June 27, 2015.
Northeast Historic Film
The Collection is open for research.
20 Items in this collection